10 Functions, 1 Pan
Let's break down the magical multifunctionality of the reach-for-it-everytime Always Pan.
You can flip, nudge, and scooch your food around all day with the handy spatula.
Saute
With a sturdy aluminium body, the pan gets nice, even heat for a perfect sear.
Sear
Stainless steel steamer basket + lid = one incredibly hot and steamy cooking situation.
Steam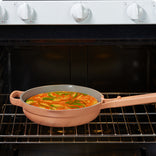 Oven safe up to 230°C, the pan can be used as a baking dish, too!
Bake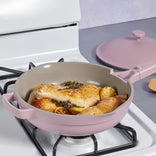 Never dry your food out again thanks to the pan's self-basting lid design.
Braise
Thanks to the pan's versatile shape, you can pan fry or deep fry with ease.
Fry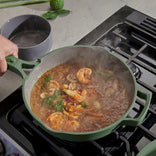 With extra deep sides, the Always Pan can boil a whole pound of pasta — no problem!
Boil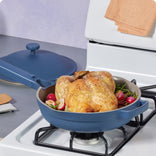 The iconic domed lid provides ample space for roasting a whole chicken.
Roast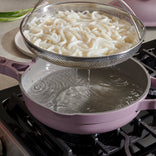 Pro tip: Boil noodles while the steamer basket is in the pan, then just lift to strain!
Strain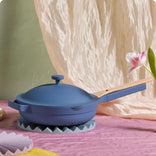 Finally, a pan so pretty you won't mind setting it down on your dinner table.
Serve